About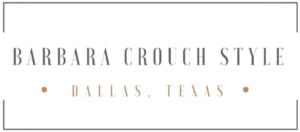 Before going out on her own, Barbara capped off a 20-year career in corporate America at AT&T. Barbara achieved impressive results in direct sales and sales manager and leader positions in consumer, small business and enterprise/global segments. For example, she encouraged sales teams on devising optimal client-focused solutions and helped sales leaders improve management techniques to better analyze, evaluate and coach their teams to peak performance.
Barbara earned her MBA in Global Management in 2002 at the University of Phoenix and Marketing degree from the University of Texas at Austin. Barbara and her husband, Douglas Ringer, reside in Prosper, Texas.
Barbara Crouch specializes in working with clients who are high-achieving women.  She influences confident, personal style by helping her clients elevate their professional presence.  Barbara's style and ideas also promotes self-confidence for her clients in all of their lifestyle activities. All the while, she creates efficient and fun use of her clients' time by taking the guesswork out of getting dressed. 
Barbara achieves this through personal styling services, wardrobe/closet editing services and personal color analysis (certified in The Color Code System- CERTIFIED) that saves time and effort while activating a positive, successful self-image.
Regularly participating in designer-related events, Barbara can see what's coming next so that it saves time and money keeping their looks on-trend without being too trendy.
Have fun loving the way you look with styling services that fit just for you. Styling starts with how you want to feel every time you walk out the door.
Get that effortless, put-together look leveraging Barbara's years of experience in the fashion industry.
Barbara is so knowledgeable, helpful, sweet and fun to talk through fashion - explaining clothing/colors, jewelry, shoes, handbags and all that work with skin tones, hair color, body shape, etc. Thank you💞
Judy P. Prosper, TX
My closet used to be filled with gray and black clothing. Barbara taught me to embrace the right color and patterns for me. There is something empowering having a group of strong women helping you choose and assemble a look that is distinctly "you." Who else knew that animal print could be a neutral?! Highly recommend experiencing the magic that Barbara can bring to your wardrobe and confidence level!
Lisa B., Lucas, TX
Thank you for your extra effort!
Laura S., Midland, TX
Get the latest
styles and trends in
your inbox!