Pre Fall 2022 fashion trends brings together the hot looks of summer and the cool hues of Fall.  High end fashion brands like cabi are bringing their A-game now for FW22.  Right now, you can swoon, browse and shop cabi's full collection and look forward to three new mini collections dropping throughout the rest of the year.
Some brands like Chloe, Mark Jacobs and Balenciaga are doing the opposite.   I like now.  Why wait!?!?
Fashion is a medium to express who we are.  I love styling very busy women with ideas so that feeling confident leads to loving the way they look.  Here are just a few ways on how I think you can wear pre-fall trends now….while it's hot you can still look and feel cool.
Pre Fall 2022 Fashion Trend 1: Loungeworthy denim
It's the intersection of something comfy and something cool.  See something you like, easy click through links for browsing/shopping.
The animal print mules by Prada are a few season's ago. Check out a fun alternative in Shop the Look.
Trend 2: Add Some Plaid
It's a black and white plaid featuring a sheer chiffon.  It's a cool look for a hot day.  Remember how easy it is browse and shop what you see!
Shop the Look
Trend 3: Anything Goes with White Denim
White denim is the perfect piece to create transition outfits because everything goes with white denim.  Remember how easy it is browse and shop what you see!
Buy Now-Wear Now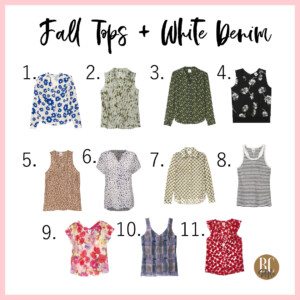 1 | 2 | 3 | 4 | 5 | 6 | 7 | 8 | 9 | 10 | 11
The cabi collection delivers year-round fashion that you definitely get your money's work.  Check out cabi's entire top collection and see what you can put with white denim for a fabulous transition outfit.
Where to Start
Don't have time to figure out what Pre-Fall Trends to wear?  barbaracrouchstyle can fit perfectly with your busy schedule.  Book your styling session and we can help save time and trouble so that you feel confident and love the way you look.  Virtual options are available.
FOLLOW ME on Instagram for more Style & Ideas
Download the LIKEtoKNOW.it shopping app and FOLLOW ME to shop more looks
Shop the cabi Sample Sale for 50% – 70% off
Disclosure: This post contains affiliate links. A purchase/click through one of these links may result in a commission paid to us at no additional cost to you. I appreciate your support of my small business.