The most versatile staple in your spring/summer wardrobe is the Jacket. Jackets on-trend Spring/Summer 21 and it's the completer piece that elevates any look, whether you need to dash on to a zoom, dinner out or polish off errands without a second look.
It is all about power woman meets casual chic with an air of sophistication and cool….while never sacrificing comfort.
While it could be 90-100 degrees outside, it's always chilly inside.  cabi brings amazing Spring/Summer fabrics and silhouettes to fit everywhere you are and whatever you are doing.  This stunning layering piece compliments you….and you are the one getting all the compliments helping you build closet confidence.
Whether you are in an office or will be heading to the office, professional women's fashion continues to evolve into what I call "Corporate Casual".  Depending on your company's culture, denim is gaining acceptance but always top it off with a jacket.  The jacket brings the look of credibility while you bring the substance.  It's a winning combination for any career.
See and shop Jackets On-Trend Spring/Summer 2021…I've included shoppable links and widgets to help make things for you easy and pretty.
Denim Jacket Adds a Cool-Factor
cabi's Drew Jacket features an oversized shape with dropped shoulders and a snap closure.  100% cotton denim and is super-light for layering this season. Inspired by Drew Barrymore's '80s style, the Drew Jacket comes in a hand-faded wash, making each one unique. Pockets at the chest add flair to this vintage jacket.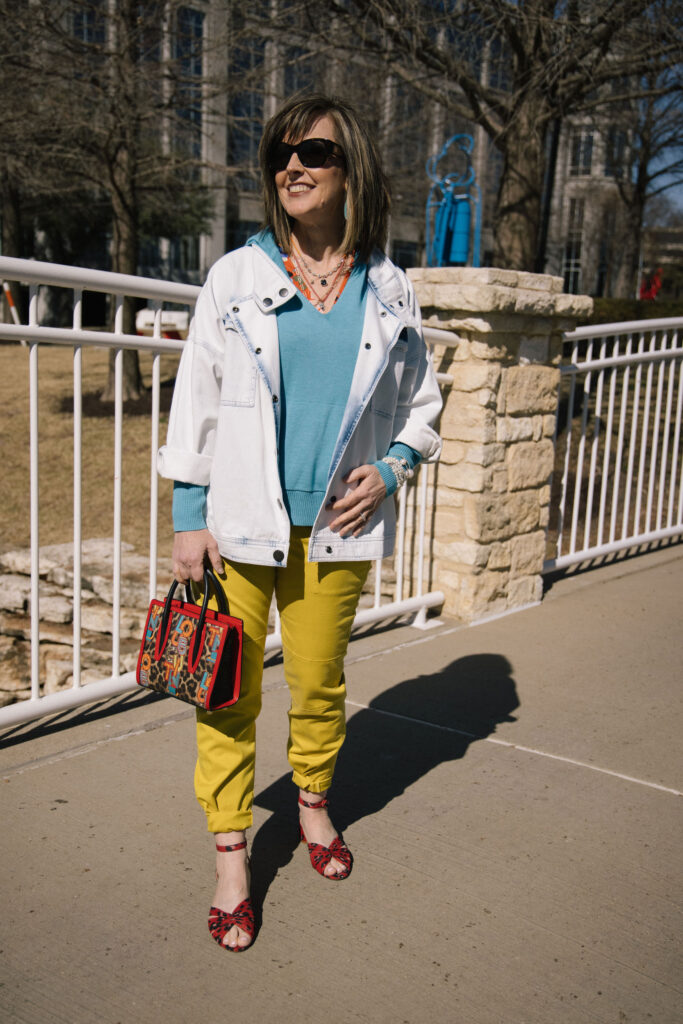 Denim Jacket, Turquoise Hoodie, Fun Floral Top (underneath), Yellow Slim Boyfriend Trouser, Layered Necklace
Longline Silhouettes Dress-Up Jeans + Tees
This is the perfect look for dinner out or dinner in. The longline blazer also creates balance when wearing higher waited jeans. Model credit: Douglas Ringer
Gingham Check Blazer, Love Tee, 100% Boyfriend Jean, White Belt, Pearl Drop Necklace, Pearl Drop Earrings
 Tailored Jackets are a Perfect Fit
Grey hue with pops of color.  In this look, you'll sure to be a head-turner.  Top off your look with this combination in jumping on a video call or running about town.

Grey Tailored Jacket, Geranium Tank, Scarf (as a belt), Skinny Jeans, Layered Necklace
A-Line Crop Jackets Tops it All
When wearing A-line jackets, I love balancing out the look with a fitted (not necessarily form fitting) top and bottom.  In the this look, I am wearing the botanical tee tucked all the way around for that fitted look.

Green Bomber Jacket, Botanical Tee, Black Pencil Pant
Contact Me
Jackets On-Trend for Spring/Summer 21. I bring convenience to showcasing your personal style and personalization to building a fabulous wardrobe. Need help??